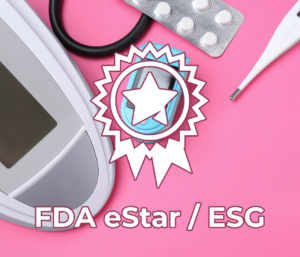 FDA Mandatory eStar/ESG submission and Expedited 510(k) Clearance
Posted on by Catherine Read
The Third Party Review Group or just TPRG for short is an FDA accredited review organization. There are very few companies qualified to review 510K submissions for the FDA and TPRG is celebrating their 13th year performing this work for our clients. As part of this program, you are eligible to receive special treatment expediting your 510K through the submission process. To learn more please read our blog regarding our program and services.
It will be mandatory as of October 1, 2023, that all 510K's be submitted electronically using the eStar format via the electronic submission gateway or ESG. As you could probably guess we at TPRG are following these new requirements very closely. In short, the ESG program is a requirement of medical device manufacturers to submit their applications using a prepopulated form created by the FDA. This form is then submitted electronically to the FDA through their e-submission gateway. There are many questions as to how this program will roll out and how certain situations will be handled.
Regardless of the benefits attributed to this program as the FDA rolls out the mandatory use of the ESG there are also a lot of questions. One of these questions surrounds the cost of compliance and the impact to smaller business and businesses that cannot afford to purchase additional software and support to move to this program. TPRG is committed to assisting our clients. Once your 510K is in the eStar format you may submit through TPRG, and we will handle the final submission to the FDA after your review is complete. As we know more regarding how the FDA will provide additional support and what software the FDA will interface with, we will provide an update.
Many have found the user interface change to the ESG system to be complicated and difficult to navigate. This adds time and cost to your submission. The FDA is working hard to alleviate this issue and providing additional training. TPRG understands how to navigate this system and will handle this extra work for our clients. When we review your eStar formatted submission we then in turn will submit to the FDA on your behalf verifying substantial equivalence. This adds an additional benefit as you can continue to move forward in the fastest clearance program with the least amount of interruption.
As the FDA works diligently to address concerns and rollout the ESG/eStar program, we will continue to update you. In the meantime, we review a lot of submissions and have a lot to talk about. More information is coming your way to help as you navigate the clearance process. If you have specific questions, please feel free to contact us, we would be honored to assist you.